PIONEER CNDV 60M EAST AND WEST DVDS

BUY BOTH AND SAVE £10.00

BUY IT NOW £50.00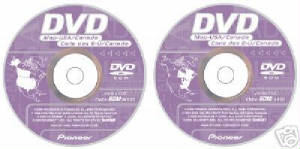 save £10 when you buy both east and west dvds
Pioneer CNDV-60M Navigation east disc

on dvd

£29.99 plus p+p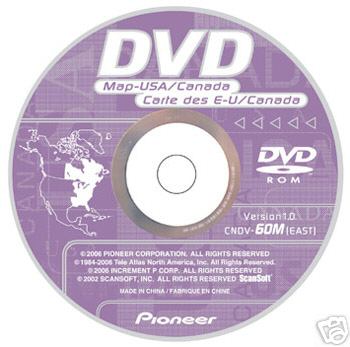 PIONEER CNDV-60M EAST NAVIGATION SYSTEM UPGRADE DVD
Specification:
Upgrade disc for Pioneer Navigation Systems.
Includes database and feature upgrades equivalent to the AVIC-N3 and AVIC-D2
Compatible with AVIC-N1, AVIC-N2 and AVIC-D1 only.
New Model Year 2006 TeleAtlas database on DVD Disc Featuring nearly 11 million points of Interest (POI), US and Canada coverage (Including Alaska and Hawaii).
pay here
PIONEER CNDV-60M WEST

DVD ROM

£29.99 PLUS P+P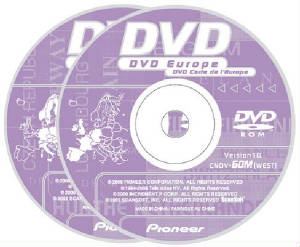 DVD Map Disc

DVD Map disc available for upscaling a Pioneer AVIC-X1 or AVIC-X1R navigation system. Contains the TeleAtlas map data with detailed City Maps, extra coverage and more POIs, and a new refreshed look for the user interface. Audio/video functionality of AVIC-X1 and AVIC-X1R will not be upgraded with this Disc.

Coverage Area: UK (incl. Northern Ireland), Germany, France, Italy, Benelux, Austria, Switzerland, Spain, Portugal, Denmark, Sweden, Finland, Norway, Ireland (=Dublin, Cork, Galway, Limerick and selected motorways), Czech Republic, Monaco, Liechtenstein, Andorra, San Marino, The Vatican, Poland, Greece, Slovak Republic and Hungary.
PIONEER CNDV-50MT ON DVD

FOR THE AVIC RANGE

THIS IS THE GREEN DISC

WITH TMC

£29.99 plus p+p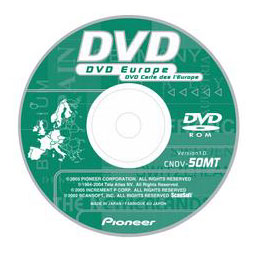 PIONEER CNDV-50MT LATEST AVIC NAVIGATION DVD

This auction is for a backup of the CNDV-50MT-disc for the Pioneer AVIC X1 and compatible units. The disk features software upgrades for your AVIC-series incar navigation, and GPS maps with points of interests for Western Europe.

FULL SPEC:

DVD Map Disc

DVD Map disc available for upscaling a Pioneer touch screen operated navigation system (AVIC-X1R, AVIC-800DVD* combined with a Pioneer touch panel display). Contains the TeleAtlas map data with detailed City Maps, extra coverage and more POIs, plus the application programme for touch panel operation.

*Or AVIC-900DVD or AVIC-9/8DVD-II or 800 Avic dvd

Coverage Area: UK (incl. Northern Ireland), Germany, France, Italy, Benelux, Austria, Switzerland, Spain, Portugal, Denmark, Sweden, Finland, Norway, Ireland (=Dublin, Cork, Galway, Limerick and selected motorways), Czech Republic, Monaco, Liechtenstein, Andorra, San Marino,The Vatican